Members of Berlin Philharmonic celebrate Beethoven on KotorArt
Furtvengler chamber soloists will take part in this year's KotorArt Don Branko's Music Days. Furtvengler is made of members of Berlin Philharmonics: violinist Cornelia Gartemann, violist Julia Gartemann and a cellist Knut Weber in collaboration with Turkish pianist Özgür Aydin. These exceptional soloists, chamber and orchestral artists, have found inspiration for their band's name in Gustav Furtwängler, an important figure in the music world of the 20th century, especially for Berlin Philharmonics where he spent many years working as a conductor.
In the year when KotorArt and every important music institution in the world is celebrating 250th anniversary of the birth of Ludwig van Beethoven, who is undoubtedly one of the most significant figures in the history of art, this supreme chamber band will dedicate an entire evening to him.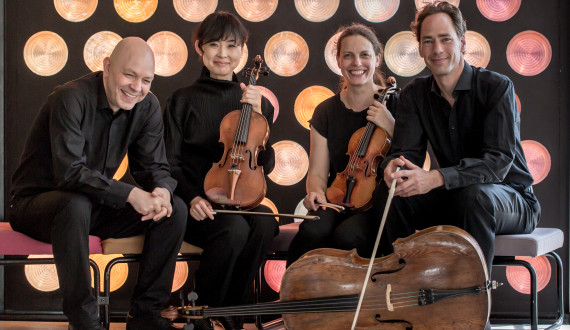 Chamber music, present in the work of almost every extraordinary composer throughout the music history, represents a special source of pleasure, both for the performers and audience. Since the first KotorArt we have been nurturing the best chamber music while trying to provide our audience a possibility of listening the chamber ensembles of various formations and by bringing together band members for the first time, exclusively for the Kotor concerts. Our audience had the opportunity to hear standard and non-standard chamber groups so far, such as Nemanja Radulović with Devil's Trills Ensemble; Tango Compas – Stefan Milenković's band; A few years in a row we have listened to various quartets and quintets formed during the festival and led by violinist Roman Simović, then Vienna Chamber Orchestra, Zagreb Quartet and many others. Furtvengler soloists, other extraordinary chamber and orchestral artists will also perform in Kotor this year. We are especially pleased that this evening will be a part of the series of concerts which are celebrating big Beethoven's anniversary. The Festival will dedicate a series of programs to the music opus of this great composer while a few of the programs will be performed the theme of his wider social- historical context. Through the programs of artistic music performed by renowned domestic, regional and world acclaimed soloists, ensembles and orchestras we will listen to his symphony, chamber and solo music. – stated the Festival's PR service.
Cornelia and Julia Gartemann grew up in a music family where they had their first violin lessons at the age of six. While Cornelia continued learning violin and enrolled a prestigious university at the age of 15, Julia decided to play viola instead and hasn't played the violin since 1990. Since 2014 she has been also active in pedagogical work. She is teaching at "Hanns Eisler" Music Academy in Berlin and she plays on Landolfi viola from 1767. The cellist Knut Weber is an active member of a few ensembles of Berlin Philharmonics such as the famous ensemble "12 Cellists of Berlin Philharmonic". As a soloist, but also as member of chamber ensembles and orchestras, he performed in Europe, Asia, South and North America. Weber is a board member of Berlin Philharmonic. Özgür Aydin is a pianist who often collaborates with numerous ensembles of Berlin Philharmonic. He is the winner of the ARD competition in Munich as well as the NIPPON music award in Tokyo. He is performing all around the world as a soloist and in chamber ensembles.