Emir Kusturica performs in Montengro for the first time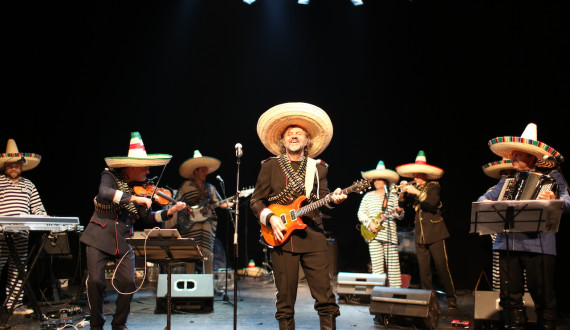 The multi-award-winning film director and musician Emir Kusturica and his band No Smoking Orchestra will perform in Montenegro for the very first time on August 10th on the 17th KotorArt Don Branko Music Days.

Emir Kusturica , the renown film director, creator of Andrictown, founder and director of film and music festival "Kustenfdorf", and his music band have been known to the world public for almost 20 years. The band that counts ten musicians has had noteworthy and sucessful performances within various cultural and music events in many countries of South and North America and across Europe.

Current members of the Emir Kusturica & No Smoking Orchestra band are: Dejan Sparavalo (violin and vocals), Zoran Milošević (accordion and vocals), Emir Kusturica (rhythm guitar and vocals), Zoran Marjanović (drums), Ivan Maksimović (solo guitar), Ištvan Mađarić (bass guitar), Nikola Kitanović (keyboards), Strahinja Banović (trumpet).
The band's musical creation is a complex musical invention inspired by music from the Balkans represented through the sound medium, but also through film and stage perfomance. Music is depicted through the fusion of gypsy folk, jazz music, rock and punk sound. Some of the published albums are Unza Unza Time (2003), La Vie Es Un Miracle (2004), Live is a Miracle in Buenos Aires (2005), Time of the Gypsies (2007). They have also recorded the score for the film "Black cat, white cat" and their newest album Corps Diplomatique has come out in April this year.
Tickets for the concert are available on sale through the Gigs Tix sales network and on over 50 selling locations in 23 towns in Montenegro.