INTERVIEW Nađa Janković: With talent and good teachers, a great deal of work is required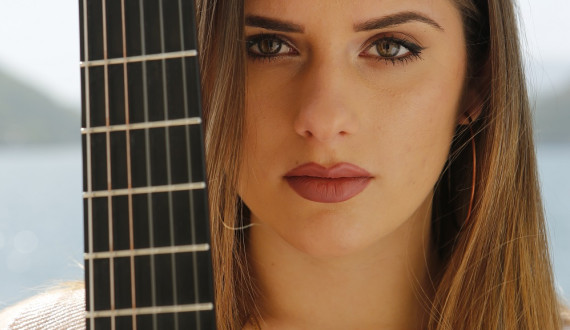 The International Festival KotorArt Don Branko Music Days have been maintaining a high artistic level of guest musicians for many years by hosting the biggest world stars with rich solo careers. And at the same time, as a part of the program "KotorArt Talents", the Festival has been helping young artists by organizing concerts where they get the opportunity of gaining a very important experience of public performance. On this year's Don Branko Music Days "KotorArt Talents" will present themselves during three festival evenings. The first concert will be held by perspective Montenegrin guitarist, a 17 year-old Nađa Janković in the Church of the Holy Spirit on July 18th.
You have been a first time participant at the KotorArt Festival in front of to you well known, Kotor audience.
It is my pleasure to perform at KotorArt and I would like to thank the organization of the Festival for showing me that honor and trust. I have participated on many festivals across Europe and America and I have been a faithful visitor of KotorArt concerts for the last few years. I can proudly say that this is one of the best organized, most quality and most visited festivals I have visited, a place where an extra ticket is always wanted.
Did you be nervous in front your home audience?
Stage fright in my case is always present. Especially in the beginning of the performance. I especially feel it on competitions when I am playing in front of great and renowned professors of the classical guitar from all over the world or when I am playing in front of my colleagues. The atmosphere is different on concerts. I can relax, get close to my audience and make contact with them. That is why I am especially looking forward to this concert in my home town.
You have been a part of Stefan Schmidt's class in Friedberg. How did it come to this collaboration?
I have met the leading artists and professors from the world of classical guitar at many festivals, concerts, master classes and lectures I've visited.
What are your impressions of the work with your new professor so far?
He is an extraordinary teacher and he approaches individually to students according their characteristics, qualities and abilities. And at the same time, Professor Schmidt is willing to help students in every aspect that is important for an artist's career.
You have won more than 30 first prizes on international competitions. How important are the awards for a young artist?
Of course, it feels good. But they create a great sense of responsibility. It is always expected from you to maintain the high level of performance. The awards are not the most important. At my age, the most important is continuity in musical education, constant progress and hard work. And most of all, maybe the most important thing, is to have a great teacher and frequent performances.
You are a member of D'Addario Foundation. Can you tell us something more of the activities of this Foundation and how important is it for you?
D'Addario is the world's top producer of guitar and other instrumentation equipment, based in New York. Within this house there is a foundation that supports and sponsors prominent artists on a global scale. I had the privilege of becoming a member of the D'Addario family two years ago. The Foundation follows our work and progress, provides us with the necessary equipment, promotes us, organizes various activities, recordings, etc.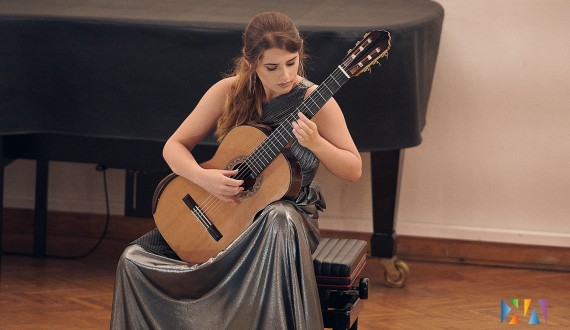 What would you say to young, talented artists, who are just about to enter the world of music?
With talent and good teachers, a great deal of work is required. It is necessary to work on music and general education, to be involved with everything new in guitar world and follow the trends. They have to work on themselves, take over a conductor baton, research on their own and, with the support of the family, gain new knowledge and go forward, correct mistakes while quickly adopting new things. And, if they are quality and hardworking people, all things will soon come to their place.
What are your plans for the near future?
Education and self-improvement are the most important things right now. I am attending master classes, recording sessions and I am performing in Montenegro, Czech Republic, Germany and America.
How will you spend your summer holidays?
Summer holidays in my case exist only on paper since I have so little free time. I dedicate my summers to music. But I still find time to go for a swim or to go out at night with my friends.
Biography:
Nađa Janković, guitar student in Music High School "Vida Matjan" in Kotor. She began playing guitar when she was 9 years old in the class of Professor Srđan Bulatović and since 2017 she has been part of the class of Professor Stefan Schmidt in Friedberg (Germany). In 2013 she has held two solo humanitarian concerts in the Church of Holy Spirit and St Tryphon Cathedral in Kotor and a recital in the Parliament of Montenegro. She performed in Belgrade, Florence, Rome, Tirana, Vienna and Stuttgart as well as in the cities in the region. She mastered her performance on seminars of renowned pedagogues like Vera Ogrizović, Srđan Tošić, Darko Karajić, Thomas Offerman, Carlo Machione, Nikita Koshkin and many others. She has won over 30 first prizes on international competitions in Slovenia, Spain, Italy, Montenegro, Romania, Serbia, Greece, Germany, America and Austria. She has been a member of "D'Addario Foundation" since 2016.

Nataša Đačić