INTERVIEW Roman Simović: Music gets a complete new dimension when you worke with professionals such as Yuja Wang and Leonidas Kavakos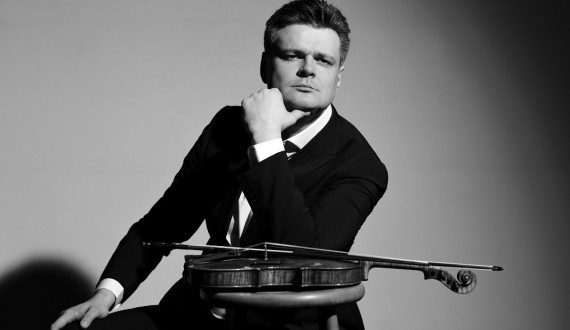 Concerts of Roman Simović, our famous violinist, concertmaster of London Symphony Orchestra and art director of Don Branko Music Days are impatiently expected by Kotor audience. The concert "Roman and Friends: Musical Compounds" will be held on July 28th in Luštica Bay. Apart from Roman Simović himself we will also be able to listen to violinist Cecilia Ziano, violists Milena Simović and Robert Smissen, cellists Giovanni Gnocchi and Dragan Đorđević. They will be playing the music by Tchaikovsky and Piazzolla. Two days later at the concert in the Church of Holly Spirit they will be joined by the pianist Ratimir Martinović who will be playing Brahms.
Roman Simović, a brilliant violinist and a concertmaster of London Symphony Orchestra, has performed on the most significant stages all over the world such as The Moscow Tchaikovski Conservatory, Mariinski Theater in Sankt Petersburg, Great Opera in Tel Aviv, "Rudolfinum" in Prague and many others. As a soloist he has performed with the most famous orchestras and conductors like Gergiev, Pappano, Harding, Jarvi, Casado and others. He is regularly performing at the most important international festivals like "Verbije", "White Nights", "Eastern Festival by Valery Gergiev", "Dubrovnik Summer Festival", KotorArt, BEMUS, NOMUS, while collaborating with artist like L. Kavakosa, E. Kissin, Y. Wang, F. Kapison, M. Majski, S. Minz, I. Golan, J. Rahlin and others. He has held master classes in the USA, Great Britain, South Korea, Serbia, Montenegro, Israel and Italy. He has been playing on an Antonio Stradivari violin from 1709. He recorded a CD with concerts by Tchaikovsky and Glazunov with Gergiev as the conductor and the Mariinski Orchestra as well as 24 Caprices by N. Paganini.
You have been involved in the organization of the KotorArt festival since its beginning. You were a member of the program council and since last year you are the art director of the festival. What challenges have you met during organization of this year's KotorArt?

We are facing the same challenge every year and that is how to find enough financial funding to organize such an important festival. The founder and the director of KotorArt Don Branko Music Days, Ratimir Martinović has constantly been struggling how to secure the necessary funds. We need a long lasting financial plan and the guarantee that we will be able to work in the following years. In that way we could concentrate more on the planning of the cultural part of the program. So far the money has been the biggest stress.
What was the situation like this year?
This year we have had the support of the Ministry of Culture of Montenegro and I am very grateful because of that.
This year again you have an opportunity to get "musically united" with your friends at the concerts of chamber music. Can you tell us something more about the following concerts, your collaborators and the program you will be performing?
As always I must say thank you to the Festival and our friends on Luštica Bay who are enabling us to perform in Kotor. These concerts are especially dear to me. This year's dream team is made of violinist Cecilia Ziano, violists Milena Simović and Robert Smissen, cellists Giovanni Gnocchi and Dragan Đorđević. We will also perform with Ratimir Martinović which brings us great joy. He is an incredible pianist and a musician and it is always a pleasure to perform with him. We invite all people who like our performances to come to these concerts so we can enjoy the wonderful music of Brahms and Tchaikovsky together.
Some of your friends who already performed on KotorArt are amazed by the festival, its audience and the entire organization but also by the town itself. What would you as a host recommend they should visit in Montenegro and which local food specials should they taste?
Because of little free time they won't be able to see much, but the tour of unique Boka with all the charms of Kotor, Perast and lovely islands surrounded by mountains is absolutely necessary and of course I highly recommend our fish specials!
Since September 2017 Valerie Gergiev was replaced by the Simon Rattle on the position of the music director. He is a conductor who first stood in front of the London Symphony Orchestra at the age of 22.
That was such good news for London Symphony Orchestra. Simon is an excellent musician and renown conductor with great management abilities. As an art director he has also been working on a project of new concert hall. I think this is a new beginning for our orchestra.
On the repertoire of London Symphony Orchestra one can often find contemporary compositions which also bring challenges in performing.
That is correct. We premiere the work of our contemporary composers but also the ones from the last century. For example, we performed Stockhausen's work "Gruppen" for three orchestras and three conductors in the very famous house of modern art, the TATE gallery. And then we played our traditional BMW concert on Trafalgar Square the very next day.
Thanks to your personal friendships and contacts the leading world artists will perform on the festival- pianist Yuja Wang, violinist Leonidas Kavakos and percussionist Martin Grubinger.
It is our great honor to be the hosts to three leading names in the world of classical music who you can regularly see in Carnegie Hall or on Mezzo Chanel. These are the artists who have been performing with the biggest orchestras and conductors and whose schedules are filled and sold out three years in advance. Their coming confirms how great they are as people and then as artists because they fully understand the problems we encountered. They are prepared to help us create the best festival in the region this year, organized with less funding than our colleagues in Slovenia and Croatia who have been organizing festivals with a lot more financial support and millions of euros they receive from the state and sponsors each year.
You have performed with both Yuja Wang and Leonidas Kavakos. What are your impressions of them as chamber musicians?
Once you've worked with those professionals music gets a complete new dimension and everything functions faster and easier. The artistic level is extremely high and it is my great pleasure to be able to perform with people who are not only wonderful soloists but who are also great listeners. They have got big egos but finally they still manage to make music first and that is the most important.
How do you see KotorArt Don Branko Music Days in five years?
That is not easy to predict. I know that everyone who stands by Ratimir Martinović the founder and director and his amazing team will be fighting for this festival to make progress.
Do you think that some changes should be made in the concept and program of the festival?
One of the ideas was that we create a Festival symphony orchestra which would engage important conductors and world artists. That way we could reach new dimensions – children playing in that orchestra would get the chance to work with someone like the famous conductor Valeri Gergiev and that would change their lives completely. If we meet the financial conditions for forming the symphony orchestra we would be able to match the biggest festivals. We know exactly what we want but it is important that the influential people also listen to us and make these ideas real.
You said that Gergiev is an unquestionable authority in music but also in management sense and that he has changed your life.
It is amazing how great artists perceive some already clear things when it comes to music. Gergiev inspires us easily as a genius and a man with a lot of experience. But he doesn't only make that impression on musicians.
Who does he also influence?
We are talking about someone who is so powerful that he can change the school system, influence the politicians to give substantial financial funds for culture in Russia because these things can be explained to their politicians. People in Russia know the foundation of their country very well. I witnessed when Gergiev bought the best collection of string instruments for the orchestra of the Mariinski Theater whose director he has been for almost 40 years. For this short time since I've known him Valeri has managed to open a new concert hall Mariinski 2", the new theater "Mariinski 3", a new concert hall in Vladivostok "Mariinski 4" and recently one more concert hall near the place where he lives. There's an inspiration for our politicians to finish building the concerts halls in Podgorica and Belgrade as soon as possible.
Last year you announced the recording of your new CD with your colleagues, string musicians of London Symphony Orchestra, as a part of the "LSO live"label.
Right now in June my fifth CD for "LSO live" label was published. We recorded a master piece "Story of A Soldier" by the genius composer Stravinsky. We performed it in the version for the chamber orchestra. If you believe me I still didn't have the time to listen to it. Those who did, say that it was very good. I am surrounded by excellent musicians, my colleagues, so the result must be good.
"LSO Live" label has also published your first solo album this year. You have chosen the integral performing of technically and musically challenging Paganini's Caprices which were also recorded by the greatest world violinists. Why did you choose the Caprices?
The recording was made in Novi Sad in 2007 after my performance of the Caprices at the Nomus festival. I received a great financial support for that project by the Ministry of Culture of Montenegro. However no one ever imagined how my life would like today and because of my many obligations I wasn't able to finish the postproduction sooner. That is another reason why I am so happy that the CD is finally published. I had great reviews in the "Guardian", "Times", "Sunday Times", "Scotsman" and many other influential magazines from the world of classical music. I am also very happy that the London Symphony Orchestra wants to promote this CD completely. I think that Paganini's Caprices are an "ID" of a violinist, a kind of "a Bible". There aren't many violinists who would choose such a step. I have been working on Caprices practically my whole life. I practice them, then I leave them and then I get back to them again. And now finally I have them recorded. That makes me very happy.

Nataša Đačić