INTERVIEW Vlatko Stefanovski: You keep the tradition when you learn about it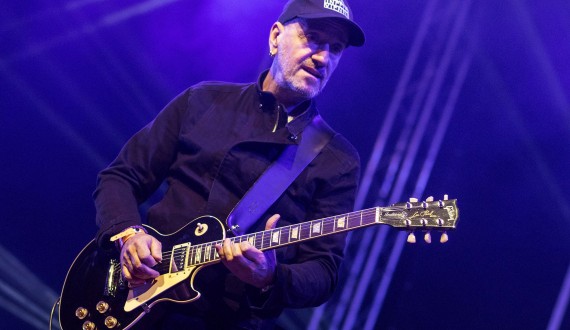 Enjoying in famous pop and rock songs on the Summer Stage begins on Monday, July 23th on KotorArt Don Branko Music Days. Vlatko Stefanovski, one of the greatest guitarists and musicians from the region, will perform as a part of a "Rock Symphony Project" together with his Bitola Chamber Orchestra.
Although he started playing the guitar not until he was 13, Vlatko Stefanovski is one of the best guitar players of this region who is still practicing very hard and trying to bring the magic out of his instrument. He is the founder of one of the most important bands of former Yugoslavia, the legendary "Leb i Sol" with which he has made 14 albums. In the mid '90s he started a very successful solo career during which he collaborated with many musicians from all over the world and many orchestras and ensembles. He is the author of movie scores, ballet music, theatre plays, animated and short films.
Although you often perform in Montenegro, you will be playing for the first time in Kotor as a part of KotorArt festival? in your opinion, what is the Montegrin audience like?
I never divide my audience, I am very lucky that the audience in Montenegro has accepted me in an exceptional way, probably because we have a similar mentality. Secondly, if there weren't high Albanian mountains we would probably be very close to each other by the air line. Thirdly, I have been doing this job for a long time and audience in Montenegro remembers it. I am looking forward to this audience and believe that we will make a great impression on Kotor and that we will justify the trust we were given by the famous and great festival KotorArt.

The concert entitled "Rock Symphony" will be held with Bitola Chamber Orchestra when a rock musician will be playing along classically trained musicians on stage. How did it come to this cooperation?
Last year they invited me to perform with them and to be their guest on their concerts in Bitola and Ohrid. I was pleasantly surprised by their professionalism, talent and especially their sound which differs from the classical repertoire.
Which program will you be performing in Kotor?
So far we have played AC DC, Led Zeppelin and some of my own compositions and it was very interesting. We will widen our repertoire this year so the program for KotorArt will be rich and various.
Your new album is called "Mother Tongue". Is there any hidden symbolism behind this title?
That's correct. When you are choosing a title for any album, you have to understand it at first and then see if there is any symbolism. That was the case with the "Mother Tongue" album. We are all determined by place and the region we were born in and growing up with the culture of our surroundings. Once you inherit all that- that is your mother tongue. Music of Macedonia is my mother tongue and that is why I play traditional melodies of Macedonian folklore on my album. My idea of the mother tongue is also the fluency of speech, eloquence and fluency of the expression. Here I think first of all on my musical mother tongue, on my expression language through my guitar. Speaking is natural, authentic and accurate.

That is how you made the album in only four days with minimal technical interventions. One would say "in a heartbeat".
Yes, the first composition "Clear Water" was made in only one take. The preparation is long, hard and exhausting. After that the playing itself isn't such a problem. If you prepare youself well, if you practice enough, if you prepare yourself mentally and physically, spiritually and technically, then the recording session isn't a problem but a pleasure.
You always keep your guitar by your side?
Yes, it is always with me.
How many guitars do you own?
Enough for a guitar player from the Balkans. More than 30, less than 40.
You are the winner of the highest state award of Macedonia, the lifetime achievement award for art and culture "11th October". You are long lasting keeper of Macedonian tradition.
You keep the tradition by learning it and that is enough. If you learn it, you save it. If you forget it, you have lost it. The more you learn, the richer is your mother tongue. When you forget certain things, you are poorer both for your own personal culture and for the national culture.
What would your first profession be? Are you a guitar player, a composer, a singer, an actor …?
I am not an actor. I have only played one supporting role. I am a musician. Modern DJs have the need to often call themselves producers, the owners of labels, hit makers. I find that pathetic. If you make music – you are a musician. To call me a guitar player, you would deprive me of some of my talents.
For almost 40 years you have been composing the applied music. You have said that in the process of composing, you create the music first and then the lyrics. In case of applied music, this order is changed.
That is right, the order changes. Once you compose applied music you do it in the way a director or a producer would demand, the way the scene and the character of the film require. That is a hard, intuitive and creative process. You should guess the character, the atmosphere … and that is not easy.
What are you working on right now?
I am preparing myself for the summer adventures. Some concerts are acoustic, some electric so you have to prepare the minimum of the equipment for the maximal enjoyment. I am tuning the guitars I am practicing by having fun in the warm days of June. I have twenty different concerts in July and August so I am planning my travel route. I am travelling across Bulgaria, Slovenia through Montenegro, Serbia, Croatia and one more place. I keep opening the maps, searching for the best route from point A to point B although I am pretty familiar with Balkan and Balkan roads.
How do you spend your free time?
I have been in park recently. I have joined the ecological action organized by the Commercial Bank. We were cleaning the park. Also I am trying to be physically active so I rode a bicycle to the park, nearly seven kilometers. I am not a man who only sits and watches TV.
Nataša Đačić