Poetically Different Romantic Writing Styles
A group of extraordinary musicians stepped on the KotorArt stage on Tuesday, August 6, making their appearance one of the performing highlights of the festival program as a whole. The most renowned Montenegrin violinist, Roman Simović, concertmaster of the London Symphony Orchestra, was a host to the musicians he introduced as this year's guests.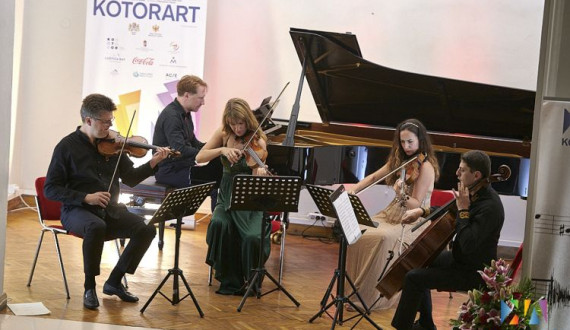 Already accustomed to such program concept, the audience was eagerly awaiting which musicians Simović would present as his artistic circle this year. Although he performs with the most sought-after artists of today, such as Leonidas Kavakos, Evgeny Kissin, Yuja Wang, Mischa Maisky, Shlomo Mintz, even though some of them have performed at KotorArt in recent years, Simović introduced to the local public lesser known musicians. Francesca Dego, one of the most sought-after musicians of the younger generation, has signed a contract with Deutsche Grammophon, Blythe Teh-Engström has majored in Violin and Viola alike at the Indiana University in Bloomington, served as the Verbier Festival Chamber Orchestra's concertmaster, where she currently leads the viola section, while pianist Simon Crawford-Phillips has been developing his career as a soloist, chamber musician, and conductor. Alongside them there were familiar faces – violist Milena Simović who, upon completing Violin studies at the Faculty of Music in Belgrade, completed master program at the Guildhall School of Music and Drama in London, Viola at the Zurich University of the Arts and who has performed at KotorArt in previous years, as well as a musician whom the Kotor audience met only the day before – cellist Narek Hakhnazaryan, winner of the Tchaikovsky International Competition, a rising star, as the world media call him.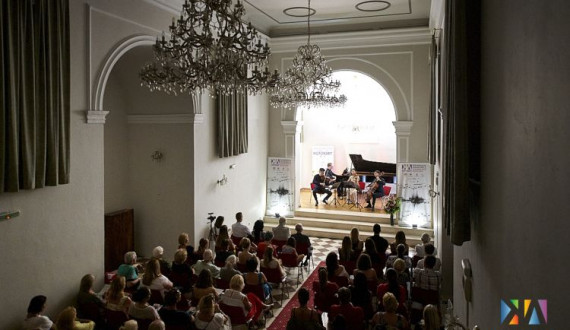 At the Church of the Holy Spirit, the musicians presented two major works of chamber music, Piano Quartet in C minor, No. 3, Op. 60 by Johannes Brahms and Piano Quintet in F minor by César Franck, creating a space for expressing their individual qualities and the art of chamber music performing, since not everyone has had experience of playing together on stage so far. Two compositions that require undivided, continual and persistent attention from a listener, each lasting more than half an hour, were created based on a romantic writing style in the same, eighth decade of the 19th century, but are also aesthetically and poetically very different. In technically demanding scores with plenty of different characters, the artists emphasized the most exciting segments. In the second movement of Brahms' Quartet – Scherzo, chromatically most pronounced, with a complex rhythmic plan, performers Simović–Engström–Hakhnazaryan–Phillips were perfectly synchronized, developing a volume of dramatic proportions. In Franck's Quintet, however, musicians Simović–Dego–M. Simović–Hakhnazaryan–Phillips intensified the emotional potential of the piece by repeatedly raising and lowering tensions.
When it comes to Roman Simović as a chamber musician, it is certain that he will not present himself to the audience with the compositions that do not belong to the "iron" repertoire, therefore no less than that, or with the musicians who cannot contribute to that repertoire in the best way.
Boris Marković