The Values Woven throughout a Century
The Zagreb Quartet, a chamber ensemble celebrating its 100th anniversary this year, performed at KotorArt on Tuesday, July 16, at the St. Tryphon Cathedral. Their approach to interpretation was an indication of the persistence of a string quartet to whose performing experience have contributed, since 1919, generations and generations of musicians.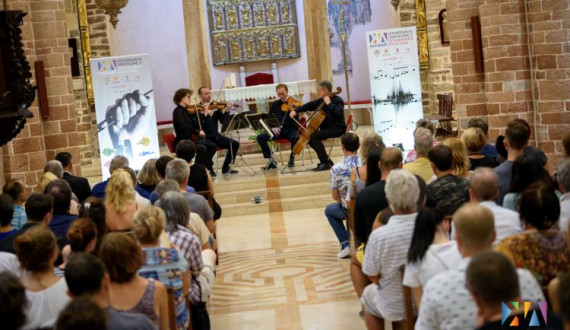 Regarding the repertoire, the musicians chose two composers whose works have been on their repertoire for decades: Ludwig van Beethoven and his String Quartet in D major, Op. 18, No. 3, and Maurice Ravel and his String Quartet in F major, which the Zagreb Quartet, in one of their previous formations, recorded in 1980s for Jugoton. These two works have a number of common features, despite a distance of exactly one century – Beethoven wrote his Quartet at the very beginning of the 19th century, and Ravel at the very beginning of the 20th century. The stylistic discrepancy, between classicism and Beethoven's early creative period, relied on the ideas of the "String Quartet's Father", Joseph Haydn on the one hand, and neoclassicism and Ravel's early creative period, relied on the ideas of impressionists on the other, has been overcome thanks to Ravel's view of the ideal of the classical form, that is, beauty. Obviously, also the Zagreb Quartet strives to that ideal with their interpretation based on precise intonation and a harmonious balance between instruments, enhancing it by the correct interpretation of the thematic material, with an expression that leaves a positive impression and is deprived of populist mannerisms.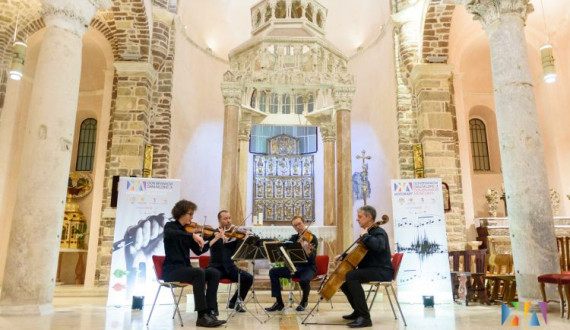 The history of the Zagreb Quartet begins in 1919 after a concert held in the Great Hall of the Croatian Music Institute. The original members were violinists Václav Huml and Milan Graf, violist Ladislav Miranov, and cellist Umberto Fabbri, while today's members are violinists Martin Krpan and Davor Philips, violist Hrvoje Philips and cellist Martin Jordan. Between these two formations, different generations of musicians who took turns over the course of a century have held more than four thousand concerts across six continents, performing a stylistically wide repertoire, ranging from classical and romantic pieces, to contemporary authors, with an emphasis on Croatian composers. The ensemble has released more than 60 records for various record labels and radio companies, such as Sastruphon, RCA, Melodicom, Da Camera Magna, Croatia Records, and ALM Records, among others.
It is known that in time, every string quartet becomes recognizable by its own timbre. In its long history, the Zagreb Quartet has obviously had to change it, but it definitely has not changed other values that one chamber ensemble should possess. A century of their existence is the story of preserving the tradition, recognizing important moments in the cultural history of a nation, nurturing good taste and investing in a brighter future. And these particular values have been also shared by Don Branko's Music Days through its music programs for eighteen years.
Boris Marković