Zagreb Quartet on 17th KotorArt Don Branko's Music Days
Concert of the Zagreb Quartet entitled "Century of Presence" will be held in the Cathedral of St. Tryphon on July 16th on KotorArt Don Branko's Music Days. This concert marks the 100th anniversary of this ensemble and its active concert life. Members of the quartet are violinists Martin Krpan and Davor Philips, violists Hrvoje Philips and celloist Martin Jordan. All additional information of the program you can find below and for all information about tickets, just click on "TICKETS".
Tickets for all programs of KotorArt Don Branko's Music Days are already in presale in limited number at discount prices.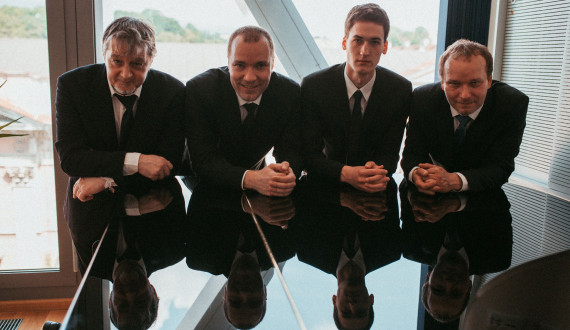 Concerts of chamber music are inevitable at the festival during the summer, but they are also a big part of Kotor concert season during the winter months. Performance by the Zagreb Quartet will be held in the unique St. Tryphon's Cathedral which has hosted the concerts of many ensembles including the famous Swedish ensemble Viljansiko, Vienna Chamber Symphony Quintet, London Piano Trio, soloist like countertenor Nicholas Clapton, violinists Grigori Zhislin, Takashi Shimizu, pianists Gülsin Onay, Marian Sobula, conductors Darinka Matić Marović, Miro Homen as well as many various choirs and orchestras, but most often KotorArt Festival Orchestra with many soloists, stated the PR service of the Festival.
Zagreb Quartet was founded in 1919 with performance in the big hall of the Croatian Music Institute. Original members of this first professional ensemble of its kind on Croatian musical scene were violinists Vaclav Huml and Milan Graf, violist Ladislav Miranov and celloist Umberto Fabri. Many musicians passed through the quartet during its successful 90 years of existance: Stjepan Šulek, Josip Klima, Zlatko Balija, Đorđe Trkulja, Marija Cobenzl, Goran Bakrač, Ante Živković, Josip Stojanović, Goran Končar, Sergej Evseev, Marin Maras and others. The ensemble has had more than four thousand performances in all continents and made more than 60 records for various international labels like Sastruphon, RCA, Melodicom, Da Camera Magna, Croatia Records, ALM Records, etc. The Quartet's repertoire is characterized by wide range of styles, from classical and romanticism to contemporary authors emphasizing the Croatian artistic production, especially the work of Božidar Širola, Josip Štolcer Slavenski, Frano Lhotka, Antun Dobronić, Boris Papandopulo, Milo Cipra, Milko Kelemen and others. Beside many domestic and international awards and prizes, Quartet is the winner of the Vladimir Nazor Lifetime Achievement Award in 2009.